Luxury Vinyl Plank Flooring
Natural hardwood flooring is undoubtedly a beautiful addition to just about any interior space, but it isn't necessarily the most practical choice, depending on your situation. Whether you have a limited budget, an overflowing schedule, a hectic household, or just a propensity for spilling things, common sense tells you that you need to choose a different flooring style. But…do you really?
Thanks to the advent of luxury vinyl plank flooring, the short answer to that question is an emphatic "no!" Presenting a manufactured alternative to hardwood planks, luxury vinyl plank is made for easy living. While it looks and feels almost exactly like natural actual hardwood, vinyl plank won't easily dent or scratch, and is so simple to maintain. It's made for heavy use and has minimal cleaning requirements, making it a great option for every room, regardless of your personal style.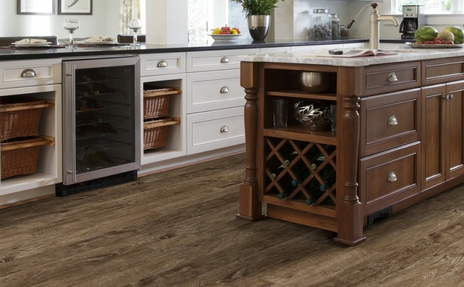 Why Luxury Vinyl Plank?
There are many perks when it comes to using luxury vinyl plank. Luxury vinyl plank is designed to stay in perfect place, even in the most heavily trafficked areas. Luxury vinyl plank works well in kids' rooms and kitchens, as well as in formal dining rooms, entertainment rooms, and other gathering spots. Simply wipe it clean using a damp cloth, and go about your day, restful in the knowledge your floor will always look perfect.
Luxury vinyl plank can be used throughout the home, and is compatible with styles ranging from ultra-trendy to highly-traditional. Whether you're looking for burnished chestnut or a gleaming mahogany, there's a vinyl plank product that's the perfect match for you and your loved ones. Luxury vinyl plank is currently sold in a wide variety of styles, widths, lengths, and finishes – and combinations. That means luxury vinyl plank truly lives up to its name: luxurious is exactly what you get. With luxury vinyl plank, you'll always be confident that your lovely new floor will last and last. Even better: unlike actual hardwood, it's fine if your luxury vinyl plank gets a bit wet once in a while. This flooring is made to withstand water- even in cases of plumbing emergencies. It will not warp or buckle following an accidental spill.
Our Luxury Vinyl Plank Flooring Selection
With our ever-expanding inventory of vinyl plank flooring, Carpet One Floor & Home of Mentor, OH is the region's favorite destination for beautiful flooring that simply makes sense in your home or business. We can help you find the perfect alternative to actual hardwood flooring, offering all your favorite brands of luxury vinyl flooring. Among our many selections are stunning options such as COREtec Plus, Mannington Adura Max, and Karndean LooseLay.
Visit our showroom, which is located at 7625 Mentor Avenue in Mentor, OH, today, and discover luxury vinyl plank flooring for yourself; or give us a call today to schedule your FREE onsite project estimate.