Types of Vinyl Flooring
Vinyl flooring has come a long way in terms of style and durability over the past couple of decades. Modern-day luxury vinyl flooring allows you to have the authentic and natural looks of wood and stone in a floor that can stand up to daily activity. Carpet One Floor & Home in Mentor can help you find a new floor for your home, and our experts have an eye for design to help you choose the perfect look. Below we go over the differences and benefits of different types of vinyl flooring including sheet vinyl, WPC, and rigid core.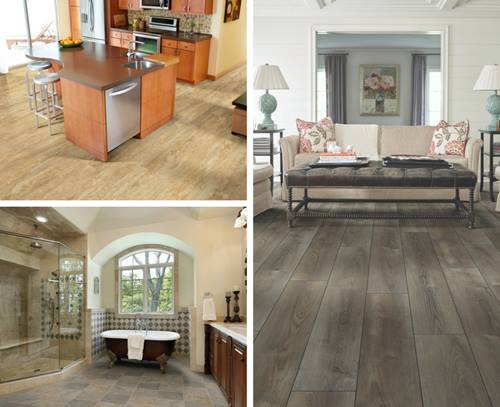 Sheet Vinyl Flooring
Sheet vinyl has largely stayed the same because of its already durable construction, but advances in digital printing technology have made sheet vinyl look more realistic than ever with high-definition visuals of wood and stone. Sheet vinyl comes in 12-foot-wide or 6-foot-wide rolls and can have a virtually seamless installation depending on how large your room is. Sheet vinyl can also be considered totally waterproof since there are no gaps or grout lines where moisture can seep in to. Looks inspired by nature is a popular trend for vinyl sheet flooring, homeowners want to capture the look and feel of stone or hardwood, but also have the easy maintenance of vinyl.
WPC Flooring
WPC stands for wood plastic composite flooring, but is commonly misnamed waterproof core flooring. Either way, both names are suiting because WPC is actually totally waterproof. These specialty luxury vinyl floors are well suited for your entire home. With WPC flooring you can have the authentic look of wood and stone in a floor that is made to handle even tough commercial spaces. Typically, all WPC products will be considered luxury vinyl tiles or luxury vinyl planks, but not all luxury vinyl is WPC.
Rigid Core Flooring
Both WPC and SPC floors are considered a rigid core product. These hybrid floors bring you the best of both such as being 100% waterproof, scratch and stain resistant, comfortable and quiet, and beautiful enough to install all throughout your home. Rigid core vinyl floors come in a collection of stone and wood look options to suit the needs of different home and personal styles. Rigid core floors are easy to install and will last for years in your home when taken care of properly.